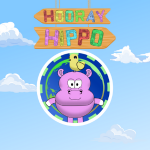 Children love animals and are curious about how their favourite creatures live in the wild. They also love online video, and that's why Hooray Hippo exists.
Combining cute CG characters, fun facts and real footage of animals in their natural habitats, Hooray Hippo helps children in the early years age group and beyond 'understand the world'.
In each episode, the lead character and her friend Billy The Bird travel to a different part of the world to learn about a new animal.
The stories are told through animated characters, a voiceover children can relate to and footage captured by some of the world's top wildlife videographers.
Ultimately, Hooray Hippo aims to educate and entertain, while at the same time inspiring the will to explore in all who watch it.