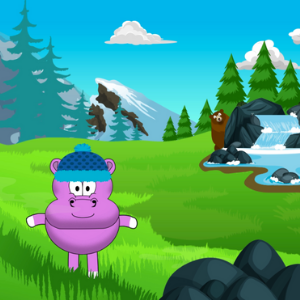 Children love animals and are curious about how their favourite creatures live in the wild.
That's why the Hooray Hippo exists.
Combining cute characters, fun facts and incredible footage of animals in their natural habitats, Hooray Hippo helps children 'understand the world', with each short video focusing on a different location and a different creature.
Each episode is nice and colourful so it's easy to project onto a white board. 
The series will help boys and girls in the early years age group: 
Learn about different environments and how they might differ from their own.

Identify animals and make observations about their characteristics.

Spot differences and similarities between various animal species and environments. 
Hooray Hippo aims to educate and entertain, while at the same time conjuring up the will to explore in all who watch.