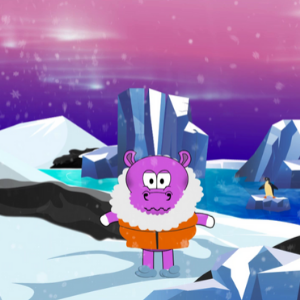 Children love online video, which is great, but it does pose a unique set of challenges for parents. 
Hooray Hippo addresses those challenges head-on, guaranteeing completely safe, educational and fun videos that we know your children will enjoy. 
Combining cute CG characters with fun facts and real footage of animals in their natural habitats, the series helps children 'understand the world'.
In each episode, the lead character and her friend Billy the Bird travel to a different part of the world to learn about a new wild animal, with series one covering elephants, penguins, bears, tigers, meerkats, giraffes, and many more weird and wonderful creatures. 
The stories are told through animated characters, a voiceover children can relate to and footage captured by some of the world's top wildlife videographers. 
Overall, Hooray Hippo aims to educate and entertain, while at the same time conjuring up the will to explore in all who watch it.